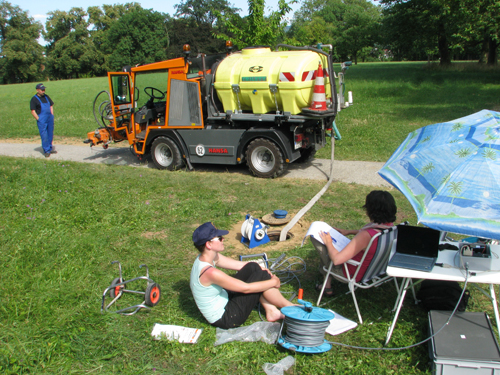 Marking trials in Stuttgart mineral water
Contact:

M.Sc. A. Ender

Funding:

Landeshauptstadt Stuttgart, Amt für Umweltschutz, Projekt MAGPlan (Förderung durch das Programm Life+2008 der Europäischen Union)

Startdate:

2013

Enddate:

2018
Project description
The mineral water of Stuttgart is a valuable resource that is exposed to a high risk potential. At the same time, however, it has a high natural protective function due to relatively low-permeability overlying layers and the partly strained or even artesian conditions.
The risk potential results from the location in a large city with a large number of sources of contamination, which is why special protection concepts are required. This requires a sound understanding of the system, to which marking tests can make a valuable contribution, as they provide clear and quantitative information. For example, they provide information on underground connections, flow times and flow velocities, and on the transport of pollutants.
The marking experiments in 1998 and 1999 (Goldscheider et al. 2003) already yielded important information about the Stuttgart mineral water system. Thus, the presumed separation streamline between the low mineralized springs (North) and the highly mineralized springs (South) could be confirmed and the flow velocities in the inflow of both sectors could be determined. However, the exact course of the parting line is still unknown.
However, reliable information on catchment areas and flow velocities is essential for swelling protection. Therefore, new marking experiments should be carried out to characterize the near vicinity of the sources and the course of the separation stream line there. In July 2013, 75 kg Na-naphthionate was injected into the mineral water aquifer at a groundwater measuring point in the area of Rosensteinpark. After almost three months, the tracer reached three springs, two of which are located south and one north of the parting line. From the input point in Rosensteinpark, a flow can be deduced for both the low and high concentrated mineral springs. In one of the highly concentrated mineral springs, the concentration still increases after 16 months, whereby overall only very low tracer concentrations were reached.
The next experiment with a further injection of 75 kg naphthionate into a groundwater monitoring well near Rosensteinpark is planned for January 2015.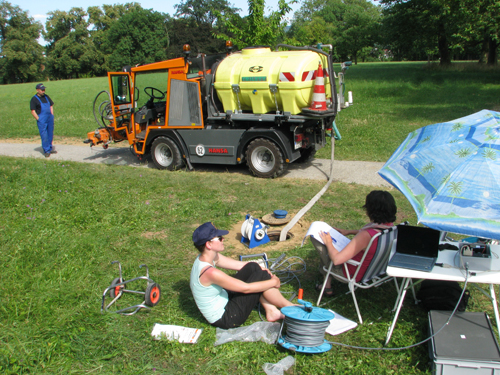 Input of 75 kg Na naphthionate into a groundwater monitoring well in Rosensteinpark in Stuttgart on 22.07.13. (Photo: N. Goldscheider)