Role of the colmation layer in surface-groundwater interactions at federal waterways (BAW)
Funding:

Bundesanstalt für Wasserbau (BAW)

Partner:

KIT - Institut für Angewandte Geowissenschaften

BAW

Universität Potsdam - Institut für Erd- und Umweltwissenschaften

Bundesanstalt für Geowissenschaften und Rohstoffe (BGR)

Startdate:

2012

Enddate:

2018
Project description
The interaction between surface water and groundwater is controlled not only by the hydrogeological boundary conditions but also to a large extent by the structure of the water body, the substrate composition of the river bed and the formation of the aquifer. Here, the colmation of a watercourse bed, i.e. all processes that lead to a reduction of the pore volume, a consolidation of the filter medium and to a decrease in permeability of the watercourse bed, is to be seen as a key variable.
The aim of this project is to identify the individual impact factors relevant to the federal waterways and to evaluate them in more detail with regard to their significance for the colmation or interaction process. A further aim of the project is the evaluation of different hydrogeological methods with regard to their informative value and their application limits with regard to the quantification of the interaction between surface water and groundwater.
This should enable a prognosis and evaluation of the geohydraulic effects of hydraulic maintenance and expansion measures with the necessary spatial and temporal resolution in the future, in order to be able to implement expansion and maintenance measures that are optimised in terms of nature conservation and economy. The research results form an important basis for maintaining rivers, lakes and canals as environmentally compatible transport routes and at the same time achieving an optimisation of the ecological status according to the EU WFD (and associated environmental objectives such as the preservation of biodiversity) and being able to contribute to the sustainable development of the federal waterways.
Freezer core - taken from the bottom of the Nedlitz puncture near Potsdam. (Photo: Daniel Straßer)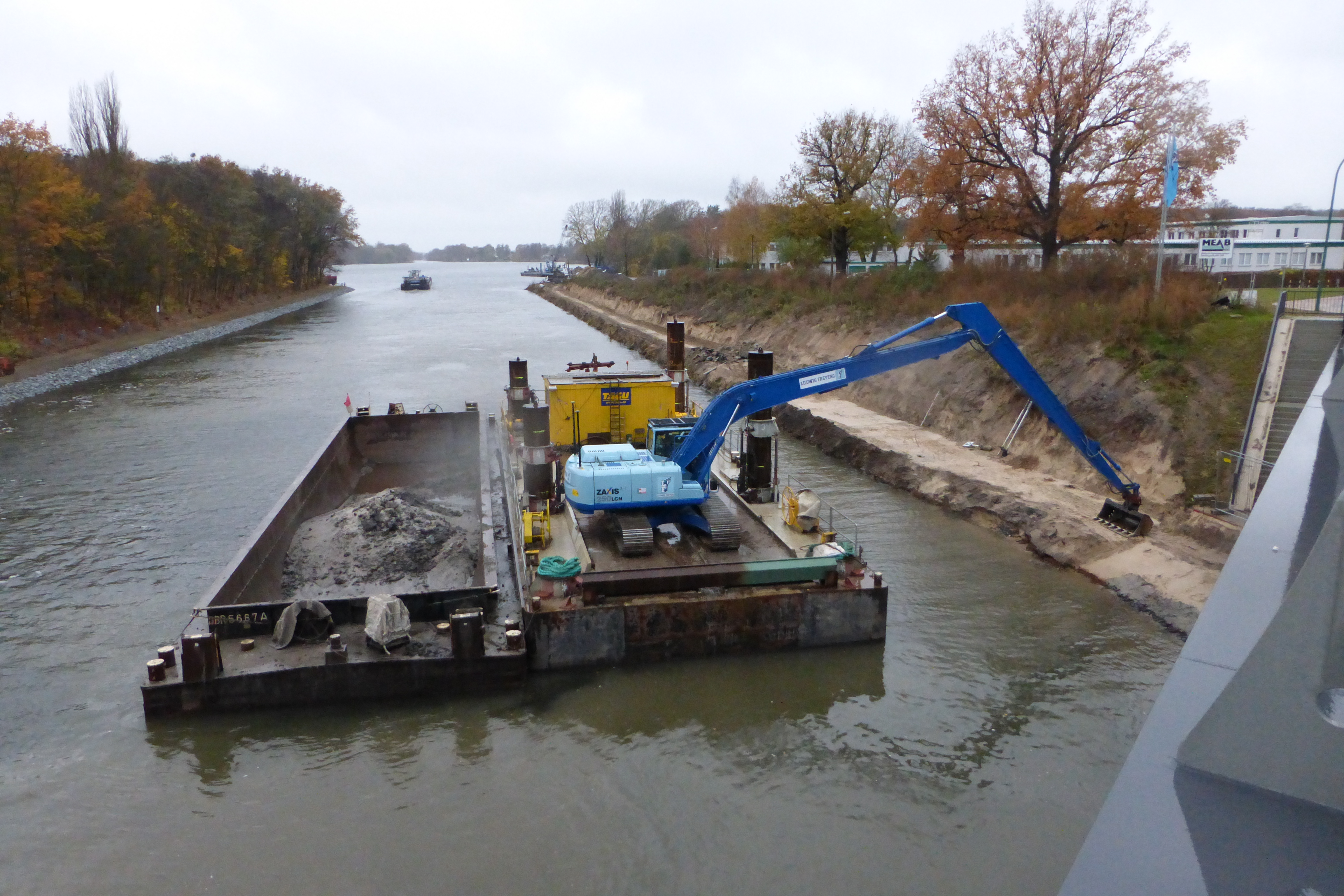 Extension work and deepening of the river bed at the Nedlitz breakthrough in October 2013 (Photo: Daniel Straßer)